LARGE Units (11-15 m²)
This size is perfect for storing the contents of an entire living room, a one bedroom apartment with major appliances or other furniture and supplies. It can be equal to an approximate size to a 2/3 of a one-car garage.
I depositi (box) LARGE sono la soluzione per chi cerca spazi custoditi, comodi e sicuri dove conservare beni personali, attrezzature da lavoro, pile di documenti e faldoni. In un BOX di misura LARGE puoi conservare il contenuto di un appartamento di 2 o 3 locali.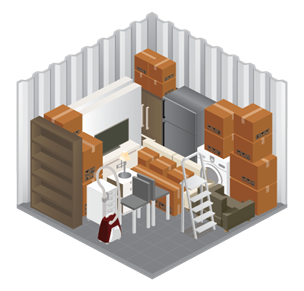 What can I put in a LARGE size Storage Unit?
| Per i Clienti PRIVATI | Per i Clienti AZIENDALI |
| --- | --- |
| 30 boxes | 60 Archive boxes |
| double beds | shelves |
| table | Office chairs |
| chairs | Computer |
| Bicycles | Office chair |
| Libraries | Lamps, or |
| Armchair | |
| Washing machine | Merchandise, Equipments, Spare Parts, etc |