Box di Deposito MEDIUM (regolare/media) 6-10 m²
MEDIUM (Regular) Units are ideal for storing the contents of a large apartment (1 or 2 medium-large rooms). These units are perfect for storing minimal quantities of furniture, sofas, chairs, chests with drawers or mattresses, practically an entire bedroom. For this reason, "Medium" units are very much in demand by students and private clients.
Per i nostri Clienti AZIENDALI, la metratura dei depositi MEDIUM è perfetto per riporre le attrezzature da ufficio; ma anche per i clienti professionisti ed artigiani che hanno bisogno di affittare un deposito personale dove possono posare le proprie attrezzature da lavoro.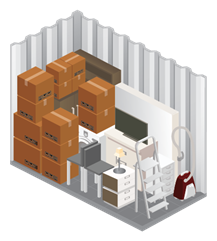 What can I put in a MEDIUM size Storage Unit?
Per i Clienti PRIVATI
Per i Clienti AZIENDALI
30 boxes
40 Archive boxes
double bed
shelves
table
Office chairs
Sofa
Computer
chairs
Lamps or
Armchair
Office chair
Bicycles
Merchandise, Equipments, Spare Parts, etc
Lawn mower
Washing machine