MEDIUM Units - Regular (6-10 m²)
MEDIUM (Regular) Units are ideal for storing the contents of a large apartment (1 or 2 medium/large rooms). These units are perfect for storing minimal quantities of furniture, sofas, chairs, chests with drawers or mattresses, practically an entire bedroom. For this reason, "Medium" units are very much in demand by students and private clients.
For our BUSINESS Clients (e.g. accountants, painters, gardeners, etc.), our MEDIUM size storage units are perfect for storing office equipment, work equipment, merchandise and spare parts.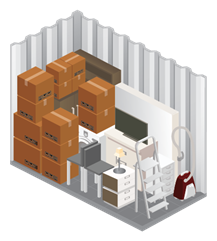 What can I put in a MEDIUM size Storage Unit?
For PRIVATE Clients
For BUSINESS Clients
30 boxes
40 archive boxes
1 double bed
2 shelves
1 table
2 office chairs
1 sofa
2 computer
4 chairs
2 lamps
1 armchair
2 desks or
2 bicycles
merchandise, equipments, spare parts, etc
1 lawn mower
1 washing machine